2007 f295 pinhole photography calendar released!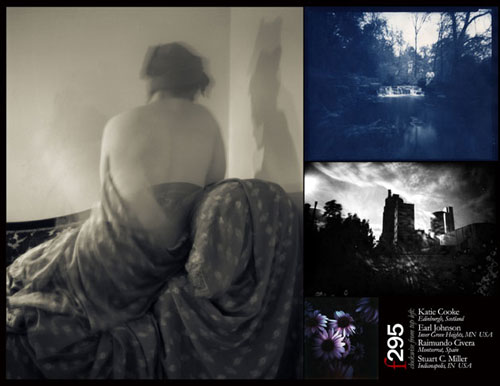 While it's a bit late to the party, the 2007 f295 pinhole photography calendar looks like a real ass-kicker! Preview images are available here on f295.
Contributing artists
Bruce Berrien, Stratford, Connecticut, US
Bryan Bogater, Fort Lauderdale, Florida, US
Nancy A. Breslin, Newark, Delaware, US
Mark Richard Brown, Annandale, Virginia, US
Raimundo Civera, Montserrat, Spain
Al Clark, Perth, Scotland
Katie Cooke, Edinburgh, Scotland
Alan Cooper, Ipswich, Suffolk, England
Mary Donato, Boise, Idaho, US
Daryl Duckworth, Hanover, Pennsylvania, US
Chris Ellinger, Ann Arbor, Michigan, US
Zeno Felkl, Leupoldsdorf, Germany
Sandra Fletcher, Eastbourne, East Sussex, UK
Elena Guseva, Foster City, California, US
Steve Irvine, Big Bay, Ontario, Canada
Earl Johnson, Inver Grove Heights, Minnesota, US
Bob Jones, Running Springs, California, US
Danny Kalkhoven, Utrecht, The Netherlands
Murray Leshner, Holland, Michigan, US
Tony Lim, Hong Kong, China
Julian Lynch, Limerick City, Republic of Ireland
Erin K. Malone, San Francisco, California, US
Stuart C. Miller, Indianapolis, Indiana, US
Nicolai Morrisson, Poughkeepsie, New York, US
Andrew Needham, NSW, Australia
Ole Fredrik Nydal, Norway
Tom Persinger, Pittsburgh, Pennsylvania, US
Antonio Prianon, Reunion Island
Justin Quinnell, Bristol, UK
Carl Radford, Glasgow, Scotland
Tim Sandstrom, San Jose, California, US
Clifford Street, Washington, Tyne & Wear, England
Steven Taft, Sarasota, Florida, US
Wolfgang Thoma, Willebroek, Antwerp, Belgium
Marv Thompson, Clinton, Iowa, US
Dennis Venema, Langley, British Columbia, Canada
Ralph Young, Fayetteville, Georgia, US
It's 26 pages, 11 × 8.5 inches, coil binding, full-color interior, runs March 2007 – February 2008, and costs US $16.29. Get your copy here!
Special thanks to Katie Cooke for helping track down everyone's URLs.
Add a comment