Chris Keeney offers custom MintyCam pinhole cameras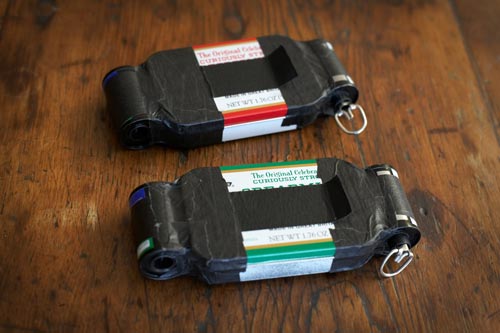 Experimental photographer and camera builder Chris Keeney (whom I recently had the pleasure of interviewing) is now offering custom, hand-made MintyCams, which are pinhole cameras made from Altoids mint tins.
Keeney writes:
For those of you that are interested in the mintycam, but aren't sure you want to go to all the trouble of painting, cutting, etc., you can now pay a small price for me to make one for you. Since this is a labor of love, I've decided to keep the cost low, while charging enough to cover my material costs.

You get:

1. Altoids tin that is painted with primer and flat black paint.
2. A professionally drilled CK pinhole (about 250-300 microns)
3. Loading and unloading instructions
4. CK tips & tricks for taking better mintycam photos
3. Take-up spool and silver metallic turn key
4. Certified Mail / Shipping
5. Custom stencil painting of your initials and the creation date
Not bad for US $28! You can order here, as well as get instructions for building your own.
Whale Spring by Chris Keeney, MintyCam pinhole camera photo
Comments
paul
April 24, 2007 at 6:22 pm

Very nice. Hope people can get them by Sunday for WPPD.

jack
November 16, 2007 at 2:29 pm

what did you use for the winding key? is it homemade or is it something else?

[CK]
November 16, 2007 at 4:59 pm

I customized these picture hangers by bending them using a large clamp. The hangers can be bought at most hardware stores.

http://www.chriskeeney.com/photography/images/mintycam-ook-ringhangers.jpg
Add a comment